Use Instant Apps to Monetize Messaging
Simplify conversational e-commerce using Instant Apps to collect order details and securely take payments.
Customize Instant Apps to push and pull data in real-time--select from a variety of elements such as checklists, input fields, and multi-select drop downs to embedded sites and signatures.
Automate data-entry for accuracy and trigger follow up workflows by syncing fields to your databases.
Full event audit trail in customer history
Sync data to and from your database or API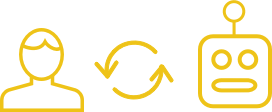 Real time sync between customer and agent or bot
See how easy it is to build Instant Apps
Want to learn how Instant Apps can help your business? Schedule a demo today!