Instant Apps set a new standard for on-demand, personalized customer experiences.
Back and forth messaging can be helpful for simple questions but when you want to move forward, you need the right technology.
Whether it's filling out a form, collecting a signature or payment information, exchanging rich media, narrowing down options, providing detailed, step by step instructions or pinpointing a time -- there is a time to chat, and a time to act.
Instant Apps elevate messaging from a back and forth conversation to a personalized, results-oriented experience that is convenient, immediate and efficient.
Instant Apps are rich, app-like experiences for exchanging rich, structured data within any messaging flow.
Omnichannel, Universal Delivery
Instant Apps are channel, carrier and hardware agnostic.  Deliver via SMS, LINE, Facebook Messenger, live chat and more.
Your brand, your look. Build once, deploy everywhere.You have full control over style, functionality and behavior configurations using our intuitive drag-and-drop builder.
A Personalized App, in a Snap
Instant Apps have the look and feel of an app but require no download and no install. Even non-developers can build one in mere minutes. Drag, drop, deploy.
Make it easy for your customer with suggested actions and replies. Set internal commands to fire front- and back-end actions, all on demand.
Real-time, Bi-directional Data Sync
Bi-directionally sync with your CRM and back-end data sources to exchange and validate structured data in real-time.
Dynamically Generated, Dynamically Deployed
Auto-generate and deploy bespoke experiences tailored specifically to a single interaction with a single customer at a single point in time.
Instant Apps provide an encrypted environment in which to securely exchange personal information.
See how easy it is to build Instant Apps
Send Yourself an Instant App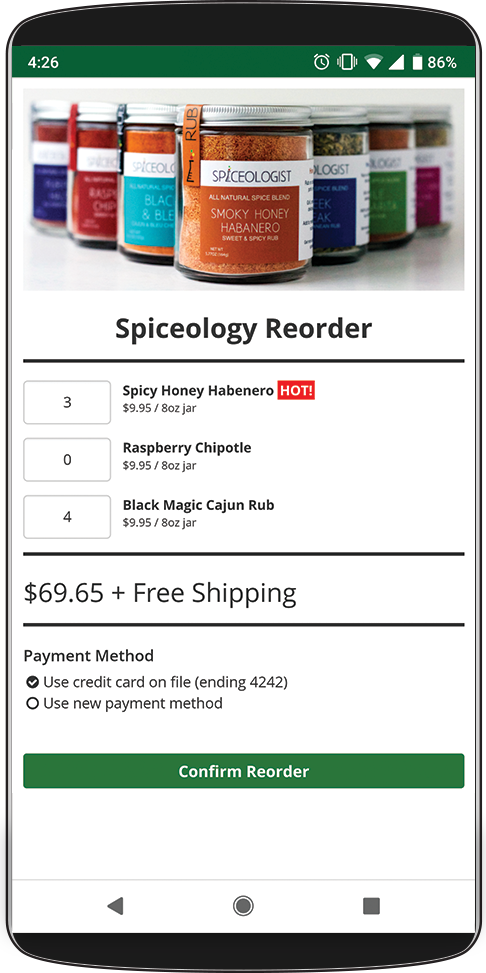 Self-Serve Demo Instructions
1)   Select a sample Instant App from the icons below.
2)  Enter your contact info.
3)  Our bot will text you the Instant App link.
4)  Click to open & see the real-time sync.
Click on an icon to text a sample Instant App to your smartphone
"By integrating Chatbox technology into our new intelligent bots, businesses can further leverage their existing platforms to more comprehensively engage with customers and simplify processes — both for data collection and end-user actions."
Steve Miranda, Executive Vice President, Oracle Applications Product Development